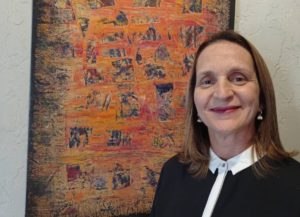 Clara Luisa Blanco Chapellin (Caracas, 1967)
Education:
 -Universidad Metropolitana: Specialization in Intellectual Property (Caracas, 2009)
-Universidad Santa María: Lawyer.  (Caracas, 2006)
Professional activity:
-Director- Lawyer of the Law Firm "Dr. Luis Blanco Hernández "(Founded in 1890): Since 2000
Developed areas:
-Study and application of Invention Patents
-Study and application of Industrial Designs
-Drafting and registration of assignments and licenses
-Background search and analysis
-Translation of documents and descriptive reports
-Assignment of inventors
-Answering return orders due to defects in form and substance
-Briefs of pleadings and administrative alerts
-Administrative resources
-Publications
-Payment of annuities
-Attention to fines and other penalties
-Granting of exclusive rights
Languages:
-Spanish
-English.